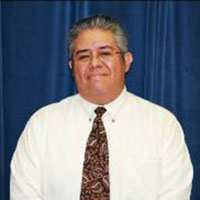 Brother Juan has been a pulpit minister at Central since 2011. He is the minister for the Hispanic congregation that meets in our building. Juan as been a Christian since the early 70's in a congregation here in Texas. He has been working since then to help translate English preaching to Spanish. He also preached in his teen years while learning from sound brothers in the faith.

Juan has been married for 30 years. He met his wife at another Church of Christ congregation at a Gospel revival meeting. She is committed to the Lord and helps him a lot with the Spanish work and in general as a Christian wife. They have two children: A son who is in his mid-20's and a daughter who is starting college soon.
Outside the church work, Juan is very involved in wood working which he really enjoys. In the Church, he is currently involved in the Spanish work and evangelism. He still does a lot of translation work and tries to encourage others bilingually.