Central church of Christ at Pflugerville will be hosting our annual Interactive Bible Study and Workshop, Saturday, September 21st, 2019, Noon to 5pm and Sunday, September 22nd, 9:30 AM Bible Class, 10:30 AM Worship and 2 PM Worship. Our topic of study this year is The Work of the Elder.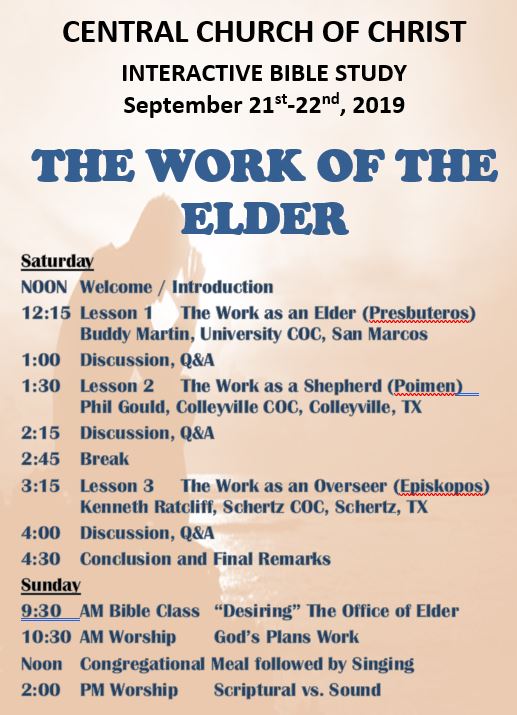 We are honored to offer and host our Interactive Bible Study. We hope that you will take advantage of this opportunity and attend this study. Our speakers this year are Brother Buddy Martin of the University congregation in San Marcos, Brother Phil Gould of the Colleyville congregation and Brother Kenneth Ratcliff of the Schertz congregation. These Brothers have served or are currently serving as faithful elders in the Lord's church.
What is an Interactive Bible Study? While many in our area have Gospel Meetings and Lectureships, our desire is to have a series of lessons in a classroom setting where instructors and the audience can interact, engage and participate in the study. Our hope is that this method will instill in the listeners a deeper richer meaning of the information being discussed such that their Christian understanding, learning and maturity will expand.
We believe our theme, "The Work of the Elder" is interesting and timely. This series of sermons and studies are based upon the inspired words used to identify the men in this office of the Lord's kingdom. Not only will this information be critical to non-members in our audience but it will reinforce biblical doctrine and provide a "where the rubber meets the road" application for members of the church. Our aim is to provide a sound treatment of the selected topic, to openly discuss the biblical understanding, and to encourage questions and comments that will promote a better understanding of God's will for man as conveyed in scripture.